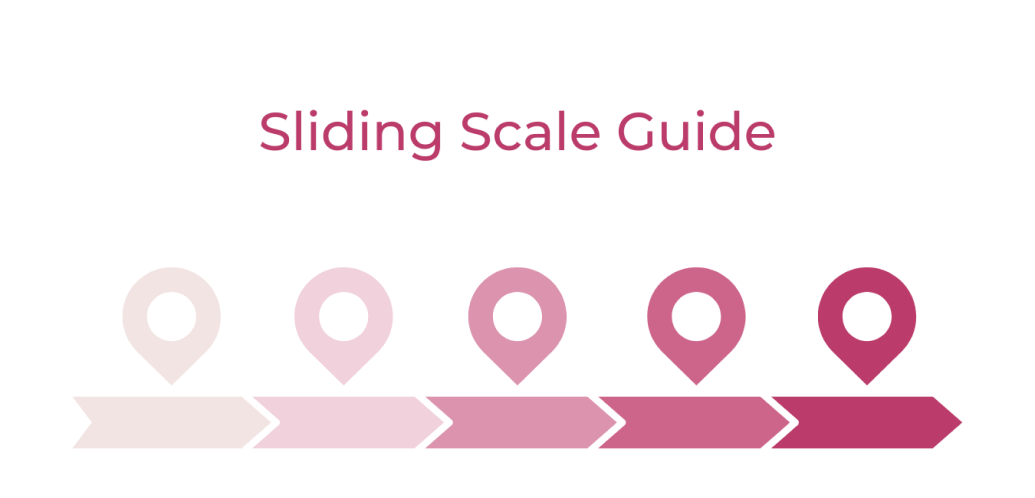 Our aim is for all of our practices to be rooted in social justice movements. We honor how the intersections of ethnicity, race, gender, class, religion, sexuality, age, ability, immigration status and a myriad of other factors impact costs. It's our goal to keep this work sustainable while providing sliding scale options to keep the services accessible to you. Here are some general guidelines to determine where you are on the sliding scale (below wording by Alexis J. Cunningfolk from her blog).
The top price class ticket is the actual cost of the class. If you choose a ticket price below the top tier you are receiving a discount.
The middle price is for those who are able to meet their basic needs but have little-to-no expendable income. Paying for this class may qualify as a sacrifice but it would not create hardship.
The bottom price is for those who struggle to meet basic needs and paying for this class would still be a significant hardship.
The Pay-It-Forward price is a few bucks above the actual cost of the class and that extra money goes towards supporting scholarships as well as future free and low-cost classes. Essentially it's an opportunity to not only take your class but also support your fellow community members while you're at it. Sweet!!
There are a limited number of slots for sessions offered at the middle and lower end of the scale. Please be mindful that if you purchase a price at the lowest end of the scale when you can truthfully afford the higher ticket prices, you are limiting access to those who truly need the gift of financial flexibility. Being honest with yourself and your financial situation when engaging with sliding scale practices grows strong and sustainable communities. It also respects the work of educators and creators, like us, you have families to support and rent to pay. Additionally, when we are paid fairly, we are able to invest more time and resources to free and lower cost offerings.
jooux offer a 20% discount on workshop registrations for Deaf, DeafBlind, DeafDisabled, Hard of Hearing, and Late-Deafened folks and/or individuals identifying as Black, Brown, Indigenous, or a Person of Color.
Use the discount code below if you identify as Deaf, DeafBlind, DeafDisabled, Hard of Hearing, & Late-Deafened, and/or Black, Brown, Indigenous, and/or a Person of Color.