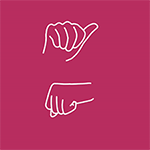 We are here to support your school in your preparation to establish and deliver developmentally appropriate evidence-based and inclusive sexual health education that is accessible for your Deaf, DeafBlind, DeafDisabled, Hard of Hearing, and Late-Deafened students.
jooux center is committed to supporting schools in their preparations to deliver sexual health education. This starts with a school's educational philosophy and their policies and procedures. We believe that developmentally appropriate evidence-based and inclusive sexual health education should be included as part of a comprehensive school health education program and be accessible to all students.
Our services include school wide education reform, by reviewing current school instructional practices, jooux services are designed to support K-12 educational systems in their policies, procedures, curriculum and staff professional development. In partnering with us, we can help build a comprehensive sexuality education curriculum that meets the needs of your program, help you choose from resources that are readily available, answer questions about what is age appropriate, and help you develop culturally responsive policies. Our approach is innovative and engaging.
jooux center recognizes the role of parents and families as the primary source of education about sexual health. We can be a valuable resource to your students' parents and educators in this area and support the implementation of evidence-based sexual health education programs that promote healthy sexual development for all students.
From implementation strategy and planning, to establishing policies based on best practices, coaching educators, and monitoring ongoing program success, we are here for you.

Don't see what you are looking for?
We offer customizations. Contact us today to get the services you're looking for: